Course Objectives
Students will learn the treatment protocols and techniques to treat several neurological and psychosomatic disorders
Students will be able to identify the correct location of over 10 scalp treatment lines and their clinical applications according to specific disease or symptoms
Students will be shown over 10 single and multiple needling techniques specific to scalp acupuncture
Students will be shown electro-stimulation specific to scalp acupuncture
Course Outline
0 hrs - 1 hrs
Overview of scalp acupuncture; how it was developed, the different systems, and how it is used in clinical practice.
1 hrs - 2.5 hrs
The benefits of using scalp acupuncture and the types of diseases and disorders it can treat such as Major Depression Disorders (MDD), Attention Deficit/Hyperactivity Disorder (ADHD), anxiety, Autism, Obsessive Compulsive Disorder (OCD), and various phobias.
2.5 hrs - 4 hrs
The correct location of over 10 scalp treatment lines and their clinical applications according to specific diseases or symptoms. In addition, over 10 different single and multiple needling techniques as well as electro-stimulation specific to scalp acupuncture will be observed.
4 hrs - 5 hrs
Students will watch the in-person attendees of the original live seminar practice the location of scalp lines and needling techniques on their partners with commentary from the instructor. Recorded Q&A session.
Great subject matter made available on-line.
Thomas C. - United States
I really enjoyed this course and will take another from Dr. Suzanne Robidoux very soon!
Mary C. - United States of America
If you want to expand your practice and learn some potentially life altering techniques give this a try, I've found it invaluable in learning about scalp acupuncture and moving forwards in my practice. I learnt so much and feel inspired yet again by the wonders of this medicine!
Megan R. - United Kingdom
I wish all classes were like this, everything is clear, ready to use , clear voise, clear speach, bright intellect, exceptional knowledge.
Olga S. - United States
Very useful and immediately applicable in clinic.
Claudie Pouget A. - France
I highly recommend this class to any acupuncturist.
Karin S. - United States
This class will improve your scalp acupuncture skills! You will gain from the demonstrations and explanations. Very clear lessons.
Mary Lynn M. - United States
Dr Susan Robidoux is exceptional in her knowledge and teaching skills. I took this course online and am now eager to take an in person course with her.
Deborah T. - United States
Fascinating course! I love Dr. Robidoux! While I missed seeing her in person, what I enjoyed about this online course was being able to get such a closeup view with the camera while she corrected people's mistakes or pointed out exact locations. Learned a lot this way! Also nice to be able to pause and go back to review.
Jessica W. - Canada
Robidoux's new scalp acupuncture points are immediately useful in day-to-day clinic and can be easily added to conventional treatments to enhance the overall effect.
Anthony M. - Canada
This course was a wonderful introduction to the New Scalp Acupuncture system. Thorough knowledge of the material by the presenter. Clear presentation and enjoyable speaker. Will definitely keep my eye out for further courses by her.
Kristin D. - Canada
One the best and most practical online courses I have taken. Immediately relevant in the clinic. Also, Suzanne did a great job of explaining the point location and uses.
Angela F. - Canada
Suzanne seems very knowledgeable and her teaching is clear. Very informative and enjoyable.
Shirley C. - Canada
No one teaches this information like Suzanne. I am having great results using these points and this system of scalp acupuncture.
Andrena B. - United States
I would recommend the course but it would be much better in person to practice She is very good
Stephen S. - United States of America
This is a very useful course for anyone interested in neurological acupuncture.
Jennifer N. - Canada
I found this course to be presented exceptionally well. The speaker is extremely knowledgeable and gives invaluable help so those patients that have neurological problems can be treated and regain their health. It provides hope for severely compromised patients with neurological problems.
Margaret K. - Canada
What a great course with very applicable knowledge to enhance your practice.
Christian P. - Canada
For anyone wanting to gain confidence and really understand scalp acupuncture techniques I would strongly recommend this course. Prior to courses from Suzanne I just used the acupuncture points on the head as points on the channels - these courses opened up a whole facet of treatment.
Pamela M. - Canada
I find all of Suzanne's courses to be exceptional because she is an exceptional scholar and practioner. She is extremely knowledgeable and confident with the material she is presenting and present with the group she is teaching. If you have only had a strictly TCM education or you want to learn something new from someone who has first hand experience with the linage being taught, she is the teacher to seek out. Highly recommended!
Naomi M. - United States
Dr. Robidoux is a brilliant healer and teacher. It's wonderful that she is teaching us how we can help more people. Thank you for adding more interest in my study of Scalp Acupuncture
Glynda B. - United States
Disclaimers:
Accessing Your Course
After checking out, your email address will be sent to Net of Knowledge securely and you will gain instant access to your course. If you do not have a Net of Knowledge account yet, one will be created for you automatically and you will receive an email with a link to set up your password. Log in to your account at netofknowledge.com and start learning!
Unlimited Access & CEUS
You will have unlimited access to this course for as long as it is on Net of Knowledge, so that you can keep reviewing and learning from it over the years. CEU requirements must be completed within 1 year from the purchase. During this time, you must view the training and complete any required documents to get your certificate. You must also print and save your certificate for your own records.
Cancellation Policy
Please note we do not offer refunds for our recorded online courses/webinars.
Note
This recording is available in an online format only; you will not receive a DVD or physical copy of the recording – it is only available to watch as a course to watch on the internet through your online account.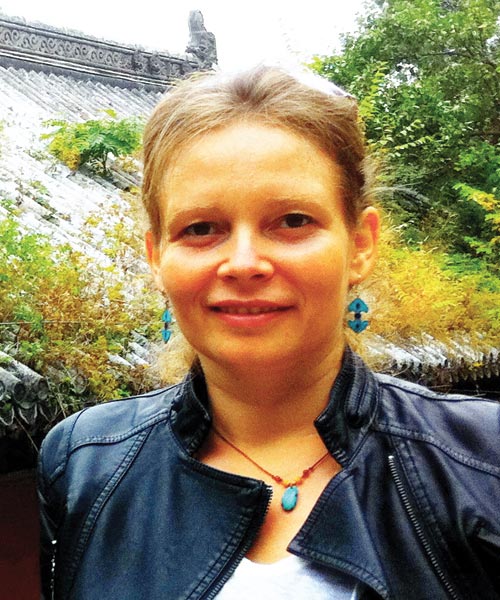 Taught by Suzanne Robidoux
Dr. Suzanne Robidoux, Ph.D, DAOM, L.Ac., has lived Asia for almost 2 decades, studying TCM with various masters. She completed her Ph.D. in acupuncture at Nanjing University, and specializes in neurological and psychological disorders. Having translated and edited over 20 professional Chinese medical textbooks, she is asked to lecture internationally often.
View full bio